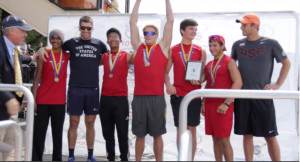 Penn Mutual Life Insurance Company Partners with the Schuylkill Navy as Stotesbury Cup Regatta Official Life Insurance Partner
The Penn Mutual Life Insurance Company, the Schuylkill Navy of Philadelphia and CBS Radio Philadelphia have announced that Penn Mutual will serve as the Official Life Insurance Partner of the Stotesbury Cup Regatta presented by Toyota.
Penn Mutual, along with its local sales arm 1847 Financial, will have a strong presence with the Regatta on-site, online and on-air. Penn Mutual is also the sponsor of the Collegiate Rugby Championship (May 30-31 in Chester's PPL Park). Penn Mutual will have an interactive kiosk called, Give It A Try, where guests can virtually place themselves on the Rugby field at PPL Park and upload the video to their social media platforms.
Eileen McDonnell, Penn Mutual Chairman, President and CEO, says the Regatta sponsorship "squarely provides Penn Mutual with a smart, effective way of reaching a new audience that can benefit from the power of life insurance as well as the career opportunities it offers."
Penn Mutual was founded in 1847, the Schuylkill Navy in 1858 and the Stotesbury Cup Regatta in 1927.
For more information go to www.pennmutual.com.